MPCA has a few lake & river spots in our area available if you would like to be a VOLUNTEER WATER MONITOR! Maybe it could even be a class project, a science project, Boy or Girl Scout badge. Sometimes MPCA can even create a spot near you. Sign up, receive your FREE Secchi Disc in the mail, watch a quick & easy video, & you are ready to go! Drop your disc in the water & record the visibility depth on the pre-marked rope monthly. That's it! You would be a huge asset to our Lake Management Plan!
---
Stop Starry – Aquatic Invasive Species Prevention
---
Carli Wagner, State of MN DNR, recently completed a delineation survey for EWM in Sakatah. They did find EWM growing on the northern shore near the resorts and on the south banks near Sakatah State Park, but overall abundance levels were still very low. For each point where EWM was found, there were often only one plant, or up to 5 or so maximum.
Thanks to the quick assessment and cooperation of Carli Wagner, Holly Kalbus, LeSueur County Environmental Resources Specialist, and the Waterville Lakes Association, we have an Invasive Aquatic Plant Management permit to hand remove Eurasian Watermilfoil on Upper Sakatah Lake. The contractor is hoping to be out either Thursday, September 15th, or Friday, September 16th, to remove the Eurasian Watermilfoil. We will be hand removing all populations that were found within the lake, including in front of Kamp Dels.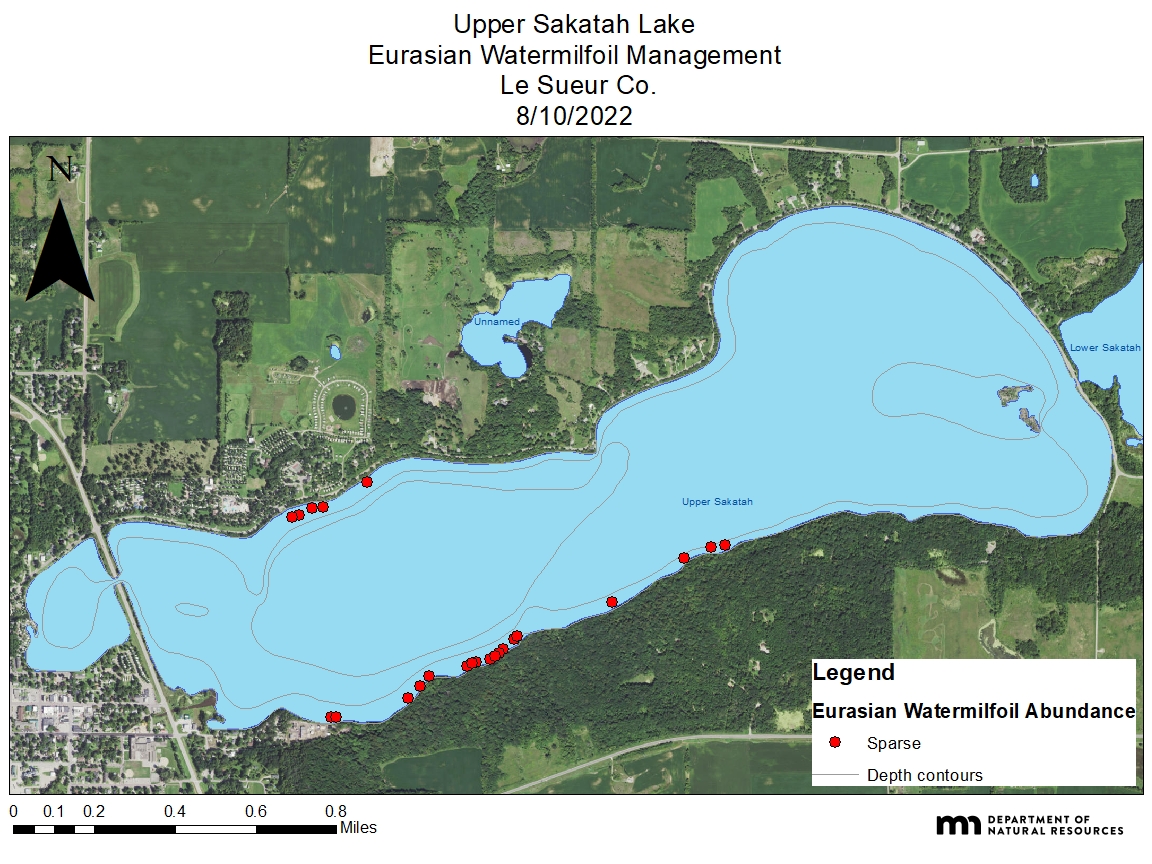 ---
Pontoberfest 2022
WHAT A BLAST WE HAD!
The weather cooperated for our picnic! We had 5 Pontoons in Costume- Elivs Rock'N Pontune, Pirate Ship, All American-Canadian Geese, Rubber Ducky, and School Bus. LeSueur County Water Patrol attended to make sure no one passed the School Bus with its STOP arm out. We are happy to report no citations were written. Some WLA members tagged along as part of the parade. Everyone enjoyed cheering as the Parade went by. At 3pm live music started with the Millerberg Lake Boys to get the dance beach party started. Our President, Eric Lomen- AKA Grill Master- grilled up Davis' Famous Skinless Brats & hot dogs for our good will donation picnic with yard games and WLA members social mingling. Much of the fun was under the new pavillon dedicated to Vicki Gleason, who was very passionate about the Waterville Lake Association. All who attended participated in Minnow Races and Waterville's very OWN "Bullhead Minnow" was the strong winner in many races. Pontoon Parade winners were: First Place: Pirate Ship, Second Place: Rubber Duckie, and Third place: Elvis Rock'N Pontune. A huge THANK YOU to our sponsors who provided prizes for the day: Phil Mart, Hoot
Lanes, Snack Shack, El Molino's, Cool Wave, One Little Shirt Shop, Scoops, & Hardware Hank. We met many new Lake Friends.
Be sure to wave when you're out and have fun on our lakes!
THANK YOU!
Your Waterville Lakes Association
Become annual members with your tax deductible donation of $30
---
My name is Lily Carr and I am an environmental policy major about to begin my junior year of college at the University of Minnesota. I just joined Minnesota Lakes and Rivers Advocates as an intern and I am so excited to be running the Lake Steward program this summer! I will approach this task with experience in soil science, environmental science, climate studies, and environmental policy.
Please reach out to me if you have questions about MLR's Lake Steward program or want to start Lake Steward on the lake you love. I can provide the tools and training you will need to protect your lakes shoreline and water quality.
The Lake Steward program is about educating and empowering individuals so they can take responsibility for their shoreline and maintain healthy water quality through sustainable land management practices. This is done through the coordinated efforts of willing lakeshore property owners and lake association volunteer shoreline evaluators. The first step is for property owners to take the "are you a lake steward" quiz on the MLR website. Finding ways to increase the number of people kicking off this process by taking the quiz is one of our main goals.
We want to spread the awareness that people have the power to protect Minnesota's water from their own backyards! Fostering the parallel ideas of responsibility and empowerment can create change in big ways.
I grew up playing in Minnesota's lakes with my friends and family, and I plan for my grandchildren to be able to do the same thing.
I look forward to working with all of you fellow lake-lovers this summer!
-Lily
(612) 351-1916
_________________
We are also encouraging interested individuals to consider becoming a WLA board member.
If interested in being a board member, please contact us at watervilleLakesAssociation@gmail.com.